Verona has a very strong curbside pick-up program for garbage and recycling.
The VEC recommends that all residents download the Remynder App for all updates on all collection services. Residents can also refer to the 2020 Township Calendar for information regarding the type of collection on any given date.
Drop off at Verona's Recycling Center, located on Commerce Ct., is open to all residents on Wednesdays and Saturdays from 8 a.m. – 3 p.m. Please note: masks are required.

For further information on Verona's collection regulations, please refer to Township Code CHAPTER 111 (RECYCLING, SOURCE SEPARATION OF LEAVES AND GARBAGE COLLECTION)
Verona Curbside Waste Collection
Regular Garbage collection occurs twice weekly.
Bulk Waste Collection: Furniture, fencing, rolled carpets, and other large items weighing less than 100 lbs. Construction waste is not considered bulk waste and will not be collected.
Yard Waste: Collected from Spring through the Fall, the township collects biodegradable bags containing yard waste, grass clippings, leaves as well as tied bundles of hedge clippings weighing no more than 50 lbs. and branches no larger than 2" in diameter. Yard waste does not include collection of downed or removed trees. Residents must pay for their own tree removal. Additionally, the Township no longer has a leaf dump and therefore residents must provide for their own large yard waste carting.
Christmas Tree Collection occurs throughout the month of January.
Verona Curbside Waste Collection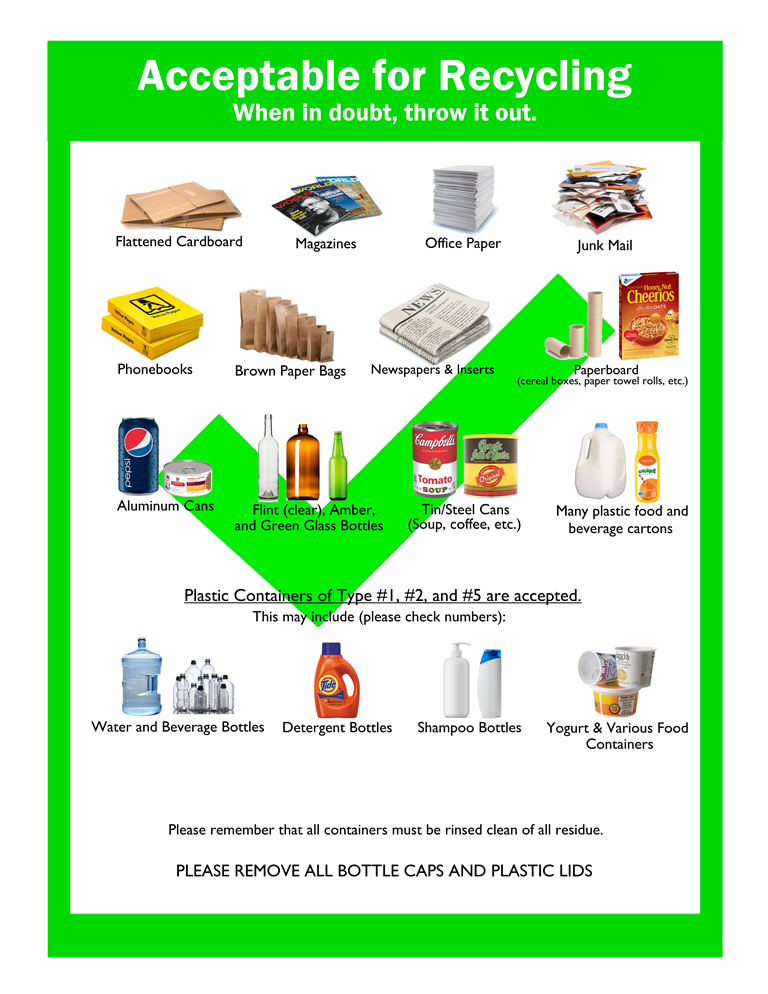 Commingled Glass, Plastic, and Aluminum
Items must be free of food residue and must NOT be in plastic bags. Please use the township receptacles for curbside pickup.
Acceptable Items
Glass bottles (all colors
Glass jars (all colors)
Food cans
Aluminum cans
Plastic bottles (types 1,2 & 5)
Clamshell containers (types 1,2 & 5)- all others are garbage
Unacceptable Items
Empty aerosol cans (which contained a food, health or beauty products are garbage –all other products in aerosol cans are HHW )
Microwave trays (the glass or plastic trays found in your microwave oven)
Plastic bags ( Plastic bags can jam sorting equipment ) Bring to local supermarket i.e. Kings, Shopright or Foodtown
Motor oil and antifreeze bottles ( empty place in garbage )
Plastic flower trays and pots
Hard plastic toys
Plastic coat hangers
Plastic drum and crates (hard plastic)
Prescription bottles (white and brown)
Plastic cups, knives, spoons and forks
Window glass
Drinking glasses
Light bulbs (florescent and CFL) HHW
Pyrex glass
Glass candle jars (Yankee Candle etc.)
Mirrors
Glass vases
Pool chemical containers ( HHW )
Pesticide containers ( HHW )
5 gallon pails (spackle, driveway sealer and paint- bulk garbage )
No broken glass (garbage)
No Styrofoam of any kind ( garbage )
Plastics coded #3, #4, #6, #7
Corrugated Cardboard & Mixed Paper
Please remove all packing materials, tape etc and break boxes down–collapse/cut boxes into 3 ft x 2 ft x 8 in bundles. Wet cardboard weighs more than dry cardboard and we pay for tonnage. Please keep this in mind during inclement collection days.
Acceptable Items
Magazines
All envelopes
Copy paper
Paperback books
Hardcover books (with hard cover removed)
Phone books
Catalogs
Office paper
Newspaper
Greeting cards
Non-metallic gift wrap (flatten)
Tissue boxes
Brown bags
Paper tissue rolls
Newspaper inserts
Chipboard boxes including cereal, cookie, pasta, cake, crackers, detergent (remove plastic liner, flatten and shake out crumbs)
Poster board (without foam backing)
Backing from writing pads
Shredded paper (Place in brown shopping bags with the open end stapled shut not open)
Unacceptable Items
Waxed paper and corrugated boxed
Tissue paper
Napkins
Paper towels
Frozen food boxes (these boxes have a sprayed on coating to prevent the paperboard from getting wet)
Paper plates
Paper cups
Metallic and plastic coated paper
Carbon paper
Labels/sticker paper
Manila envelopes with plastic bubbles or Tyvek envelopes
Photographs
Pet food bags (Lined with plastic)
Furnace filters
Pizza boxes stained with food, oil, or grease
The Township Recycling Center is located at 10 Commerce Court. Residents may bring their recyclable items to the center on Wednesdays and Saturdays from 8:30am- 3:30 pm.
Residents may also purchase biodegradable yard waste bags for $0.35 per bag from the Public Works Administrative building located at 10 Commerce Court.
Disposal of Other Items
Electronic Waste is no longer acceptable for disposal at the Recycling Center. The Township and Essex County conduct multiple Collection Days each year for your cell phones, old Computers, TV's etc. Collections by the County are held in Cedar Grove at the Essex County Public Works Building at 99 West Bradford Avenue. Collections by Verona's DPW are held at the DPW garage at 5 Ozone Avenue.
Hazardous Waste collection days are provided by Essex County yearly. Collections are held in Cedar Grove at the Essex County Public Works Building at 99 West Bradford Avenue.
Acceptable Items
Pesticides and herbicides
Household cleaners; bleach, air fresheners and floor wax
Paint thinners and solvents
Oil-based paints, stains and varnishes
Aerosol spray products
Rechargeable batteries
Mercury-containing products (thermometers, thermostats, and fluorescent bulbs and ballasts).
Automotive liquids (anti-freeze and steering fluid)
Car batteries
Hair coloring products
Lighter fluid
Driveway sealer
Fire extinguishers
Fluorescent Light Bulbs
Muriatic (hydrochloric) acid
Propane tanks (barbecue type)
Chemistry sets
Pool chemicals
Unacceptable Items
Latex Paint
Regulated Medical Waste or Infectious Waste
Explosives, Munitions, Reactive Materials
Unlabeled or Unidentified Items
Commercial or Industrial Waste
Smoke Detectors and Carbon Monoxide Alarms
Asbestos
Empty Containers
Household Batteries (AA, AAA, C, D 9V)
Propane Tanks that are empty can be dropped-off at the Recycling Center only after receiving a permit from Public Works for $5.00 per tank. Public Works Office at 10 Commerce Court is open Monday through Friday from 7:00 AM to 3:00 PM.
Gently Used Clothing may be donated to many of our local churches or Veteran's Organizations. It may also be brought to the Township's recycling center and placed in the designated container for donation.
Cooking Oil and Grease of industrial quantities should be privately collected. Residentially produced oil and grease should be sealed in a non-recyclable container for disposal in your regular garbage.
Verona Recycling Center
The Recycling Center is located on Commerce Court and is open on Wednesdays & Saturdays from 8:00am-3:00pm. Verona High School's Environmental Club and the VEC published a video introducing the Recycling Center.